Here is a couple quotes from the book "Hayden Heyer and the Twin Guardians," by D. Perdue Henderson.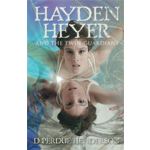 Opening of the novel.
"It was 4 a.m., dark and rainy. The wind whipped through you like a cold chill in April, only it was mid June, evident that change was in the air."
"Darkness masked most of the chaos during the night, except for some unexpected lightening that cut through the night sky like a crack in time."

"A brown plush teddy bear is peeking from under the bed sheets, as well as a Barbie doll in a ball gown."
This book is available on Amazon.com and Kindle. It can also be ordered from any bookstore by providing the ISBN number to the stores customer service personnel.
ISBN: 9780985895310.