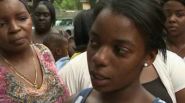 Click Here For Article of Girl Struck By Gunfire
I have to commend the people who took a stand and did the right thing for young Averiona Hines in Milwaukee. She was hit by a bullet while sitting in her home and has had trouble sleeping ever since. When the neighbors heard of her difficulty, they decided to hold a prayer rally outside her home for support. That one act of kindness may have changed everything.
They didn't get angry and make false accusations, like most people do about the questionable people in the area. Instead they peacefully gathered together letting whoever did it, know that they are not afraid, and what happened to this child is not her fault. They supported 12 year old Averiona in her time of need and told her she does not need to go through this ordeal alone. In doing so, it made her feel safer and stronger. She also learned a lot about kindness in the interim.
Yes, there is violence out there, but you don't have to let it ruin your life. The support system that surrounds you is there to help you through it, and we need more of them. Violence happens every day, especially in areas where people are too afraid to get involved. But, that's when we need to go door to door and invite those people to a picnic or backyard barbeque to build friendships and trust.
Averiona is only one victim of the evil that is trying to take over the world, and it will continue unless it is offset by something positive and good. That positive force is you and me. We are the good! God once said to me, "Strength is in your gentleness and kindness to others." Here is the perfect example.
We cannot change the evil that happens, but this one neighborhood took the first steps at making a dent in its shield. This is what I have been talking about in my blogs from day one; getting involved in the community to make a difference. In the process they made the victim feel stronger and got to know some of the neighbors they didn't know before. For all we know they may have empowered young Averiona Hines to be a leader in her community. Maybe even be the one to change the world, all because they showed her support in her time of need.