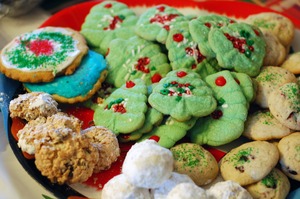 If Thanksgiving starts the Christmas season, then St. Nicholas Day (December 6th) is a reminder that Christmas is right around the corner. The shopping, decorating, cards, baking, and religious traditions can sneak up so quickly, you feel rushed and guilty for not starting earlier. Then promise to do so next year, but never do. Why? What do you think needs to change so you can have success? It doesn't have to be difficult, but it does have to include others and some time management. Here are a few suggestions that work for me.

Holiday Meals
If you have the family over for Thanksgiving or Christmas Dinner, put them to work. Nowhere, does it say you have to do everything yourself.
Have every adult (family) bring or make something for the dinner table. It can be the pies, rolls, green bean casserole, or the snowflake placemats the children made for the table. Get them all involved.
Have the holiday meal early, around 1 PM. Just the meal, not the desserts. The secret is to put the turkey in the oven over night and cover it tightly (3AM on 250º works for me.) Then go back to bed until 9 AM. Just make sure to cover the turkey tightly, so no juices can spill and start a fire. Baste the bird as soon as you get up and turn the heat up to 350 º. This gives you time to wake up and make the other items for the holiday meal. Not only will you have a tender bird, but less stress.
If someone asks you if you want help with something, always say yes. Even if it's only sweeping the floor. You may have to orchestrate the activities, but it makes the time goes by faster when there is someone to talk too and laughter in the air.
Around 5 PM, everyone will want something to eat again. Here is the perfect time to serve the dessert, or eat up some of those leftovers. This is also a great time to talk about what everyone wants for Christmas, or his or her plans for the New Year.
Decorating
Putting up the decorations (or taking them down) doesn't have to be tedious. If the family is still over for Thanksgiving, use them. Do it the next day as a family and start a new tradition. Better yet, have the men and kids do the tree, lights, and any outdoor decorations while you're dashing through the stores on Black Friday. Or, just have a party. The goal is to have the decorations done by the first weekend in December.
Cookies
The best time to bake holiday cookies is with the children on Thanksgiving. It gives them something to do while visiting and a great way to hand down recipes. Make sure you have all the ingredients and decorative tins ready, prior. If however, Thanksgiving doesn't work for you, then try to combine it with another holiday activity like decorating. The goal is to do holiday stuff together with someone special.
Shopping
Sometime before Thanksgiving, create a list of people you need to buy for, and place a dollar amount next to each person's name, along with the method of payment you plan on using. Then try to stay on budget. Start your shopping as soon as possible. Right after Thanksgiving is perfect! Begin with places that have a layaway plan. This way you are not spending all your money at one time. It also gives you a place to hide the gifts from the kids until Christmas.
Cards
If you send cards to a lot of people that you never talk to, get a small notebook and use it as your Christmas card address book. It's easier for updating information and doesn't crowd your normal address book. It's best to have them all in the mail before the second week in December. I start mine the day after Thanksgiving and usually have them in the mail by the end of November.
Now, you have the rush of the holidays managed and almost complete. You can sit back and enjoy! I am not going to go into religious traditions, since there are so many, but you now have the last 2-3 weeks to participate in holiday activities and help others.
Don't forget to take time to meditate on the reason for the season – Jesus Christ.